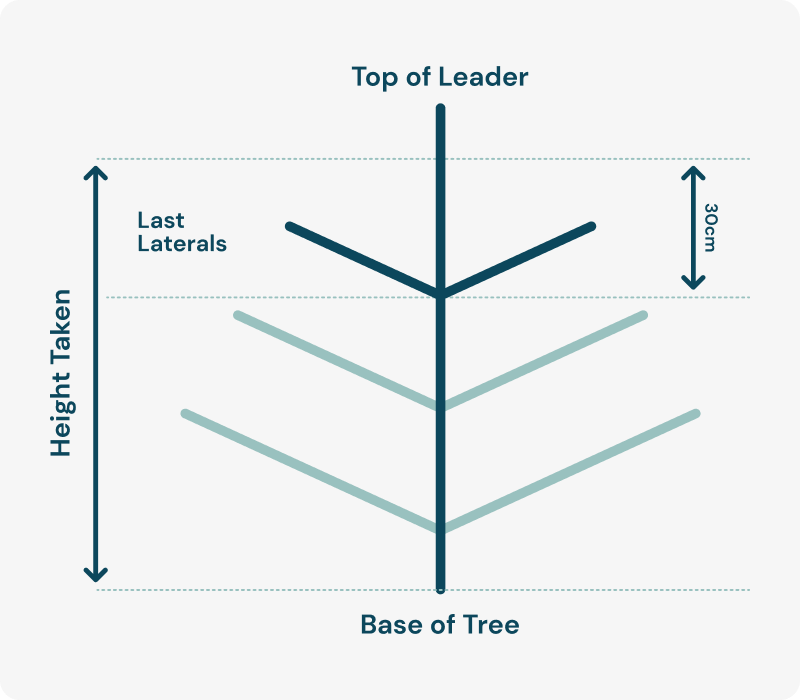 Measuring Guide
We measure all our cut trees into 30cm size bands. For example, 6ft trees fall into the 180cm to 210cm size band. All our trees carry a label with details of the type of tree, the size, a barcode, Plant Passport and unique serial number to enable us to trace in which plantation it was grown. See our Traceability section for more details of the labels attached to our trees.
Cut tree measurements
We measure each tree to exacting standards, which means you have a tree measured not to the top of the leader but to 30cm above the last laterals on each tree. The sizes available are all listed with the type of tree.
Pot Grown
The pot grown trees are measured from the rim of the pot to the top of the leader. Our pot grown trees are nurtured from seedlings and planted in their special growing pots in our fields. The specially designed pots have a hole pattern both on the bottom and around the sides, thus allowing the smaller roots to work through the pot and gain water and nourishment. We only supply a potted (containerised) Christmas trees upon request.